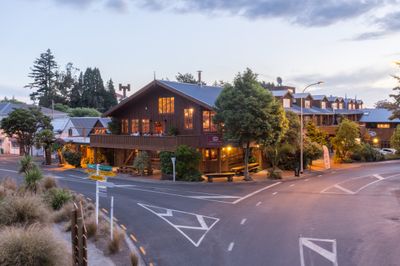 Powderhorn Chateau
Ohakune
The Powderhorn Chateau, is an iconic building with the ambience of a European alpine lodge, bordering the southern slopes of Mt Ruapehu and the spectacular Tongariro National Park.
Conveniently located at the start of the Old Coach Road Cycle Trail and on the doorstep of Turoa ski field, this is an ideal base to explore this stunning alpine wonderland.
The property features 30 spacious hotel suites, a 3 bedroom self contained apartment, a 3 bedroom house and three 2 bedroom chalets. The hotel features the Powderkeg which is iconic for its warm, fun atmosphere (bar and restaurant) as well as the Matterhorn restaurant providing a range of dining options. The property also boasts an indoor hot pool, great to relax in after a day exploring the dual natural and cultural World Heritage National Park.


Website : Powderhorn
Phone: +64 6 385 8888
Email: info@powderhorn.co.nz
SKU: 10015